My wife Jennie, and I, spent a week in Yosemite (2/20-2/24-2017) hoping to be able to photograph the 'Firefall' (Horsetail Fall). Every year during the last two weeks in February, the sun (at sunset) is at the exact angle to light-up Horsetail Fall making it look like a firefall. Horsetail Fall is on the east face of El Capitan.
Horsetail Fall is only active if there has been sufficient rain and/or snow melt to create the water flow. At best, it is a very tiny (as water falls go) stream and very susceptible to winds.
There are only a couple of prime spots on the valley floor where this phenomenon can be seen. The El Capitan picnic area on North Drive and exactly .9 miles past the Cathedral Picnic area on South Drive. You can see it from a few other places but they are not considered prime. Too much stuff in the way and/or the angle is not very good.
It rained all day Monday and Tuesday (2/20 & 2/21) and then snowed all night Tuesday night and some of Wednesday. The clouds and overcast came and went all day so we were not feeling good about the Firefall actually happening. The sun's setting rays (actually ten minutes before sunset) has to be able to get through in order to light-up Horsetail Fall.
At 4pm, we drove up to the South Drive location and there were approximately 15 cars already there and a gaggle of photographers already set-up. We walked over to the 'spot' and thought "is there a place that isn't already taken, it's only 4:10pm. The Firefall, if it happens, will be at 5:35pm – and it is already COLD!" In my stumbling around, I discovered a perfect un-claimed spot. So Jennie stood there while I retrieved my camera gear from our car. We set-up right there and bundled-up for the wait (fingers crossed and wrapped around hand warmers).
For you photographers – our set-up was a Gitzo GT3540L tripod, a very old Gitzo pan-tilt head (R.No2), RRS clamp and L-bracket, Canon EOS 5DS R camera, and a Canon EF 100-400 IS II USM lens. The exposure was 1/40 @ f/8, 278mm, ISO 200.
As the evening wore on, more and more people arrived. Most were unable to set-up and some were there just to watch. All told, there were roughly 25 cars parked on the road and roughly 50 photographers. The absolute max number of photographers for the spot were there.
As it approached 5:35, we could see that the sun was starting to hit Horsetail and by 5:48, it was totally spectacular! After we got our shots and back to the lodge, we heard that it was one of the best shows ever. It was truly breathtaking!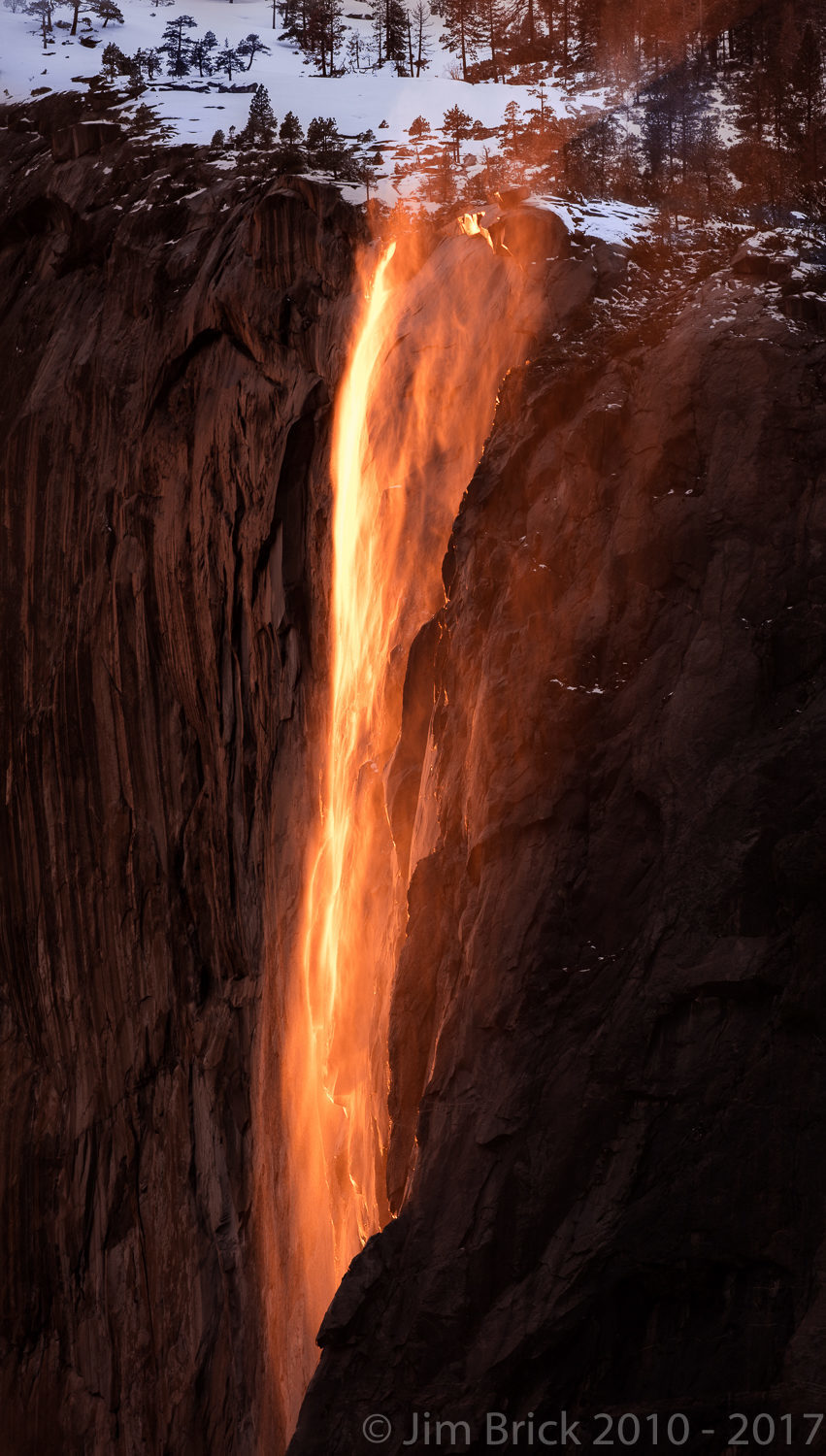 So on Thursday, and now that we already have it captured, we weren't going back to wait and freeze for another possible show. We drove by the South Drive parking (the Rangers allow parking in the left lane for Horsetail falls photography – South Drive is two lanes one way). We drove by at 3:45. There were so many cars, we drove the loop again so that I could video and count them. 134 cars parked there at 4pm. The Firefall starts at 5:35 (if the sun & clouds cooperate). I can't imagine how many cars were there at 5:30. At 5:30, we were warm and cozy in the Mountain Room having a Salmon, baked potato, veggie, Guinness 🙂 dinner!
Check out the cars!!!